Discover more from Criconometrics
Telling cricket stories with data
Over 1,000 subscribers
36. Saving Test Matches
Sunil Gavaskar is in a league of his own in terms of batting to save a Test match
Less than a week after the ICC floated a proposal that the time duration of Test matches be cut down to four days, South Africa and England played out an absolute thriller in Cape Town.
It was a sort of thriller that perhaps only Test cricket is capable of - where one team had simply no chances of winning and was just playing for a draw. England had declared their second innings at 391/8, leaving South Africa to score 438 runs to win in a possible 146 overs. Very quickly, it was evident that the target was beyond South Africa, and they simply strove to bat out the overs to salvage a draw.
South Africa came close, but ultimately they were unsuccessful, losing their last wicket with a little over eight overs to go (the "official margin" of 189 runs is meaningless here, since South Africa weren't really going for the runs). Days earlier, in Sydney, New Zealand had collapsed meekly to 136 while chasing the target of 416 that Australia had set them.
These two Test matches added to the set of recent instances of teams failing to save Test matches by batting out the fourth innings. In fact, the last time a team batted out more than 50 overs in the fourth innings (while chasing 250 or more) was in October 2018, when Australia batted out 140 overs in making 362/8 while chasing 462 to beat Pakistan.
Since then, there have been 19 instances of teams being set more than 250 to win in the fourth innings with 50 or more overs to bat out (we only consider games with a third innings declaration, since that indicates an explicit "target being set"). On each of the 19 occasions, the team batting fourth has been unable to save the Test.
So have teams really forgotten the art of saving Test matches? Based on the data, it seems so.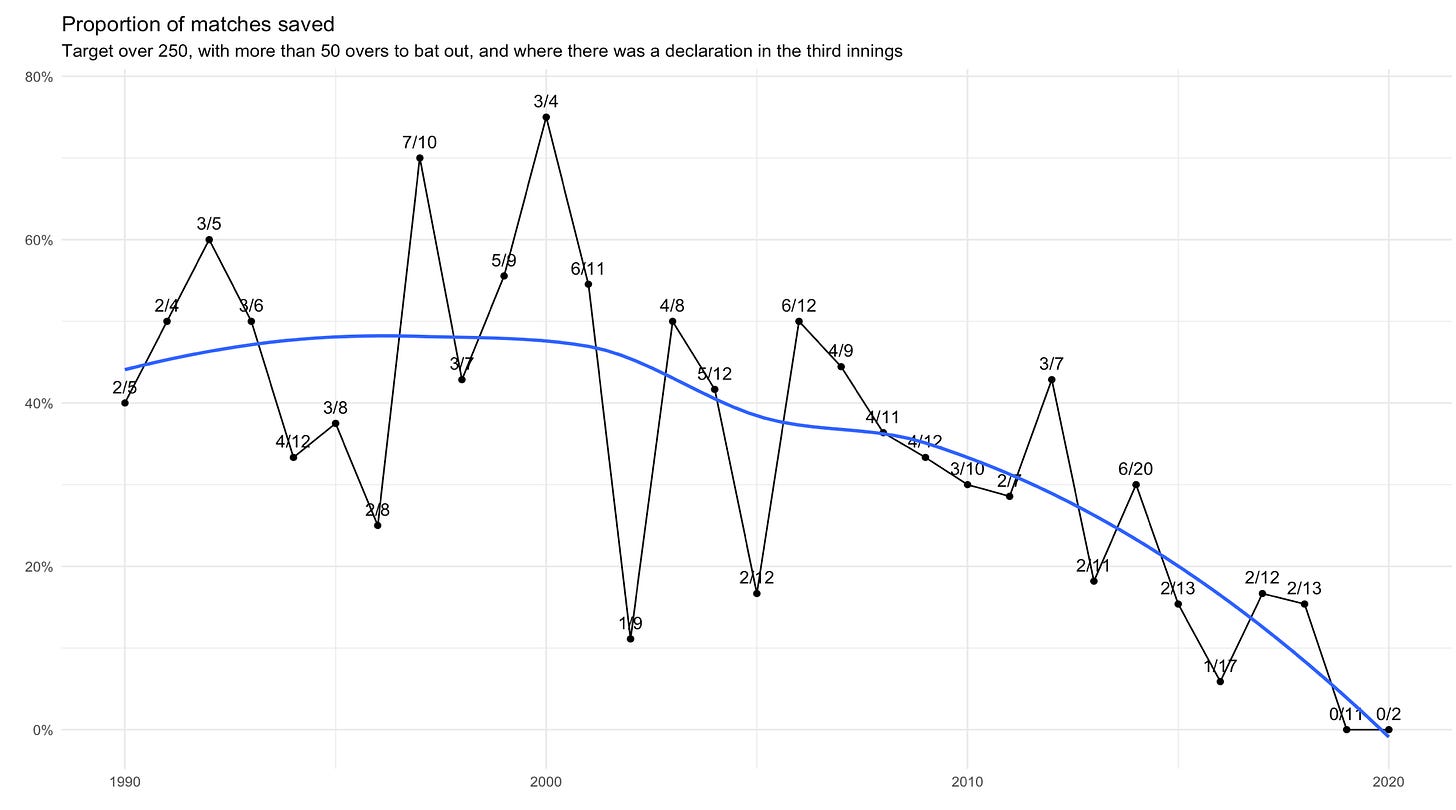 Through the nineties and the mid 2000s, about half the Test matches where the team batting fourth was set a target would get saved. And then we see a steady decline, barring blips in 2012 and 2014. In 2019, none of the 11 teams set a target to save the Test in the fourth innings managed to last the duration. And 2020 has not started on an auspicious note on that account.
Batting to save the Test
Whenever fourth innings shut-outs are in progress, commentators inevitably talk about Michael Atherton's epic unbeaten 185 at the Wanderers in 1995. "Chasing" 479, Atherton helped England bat out 165 overs as they finished with 351/5. Atherton's innings, which lasted 492 balls, remains the biggest ever (in terms of balls played) when batting to save a Test.
In second place is Sunil Gavaskar's equally epic 221 at the Oval in 1979. In all fairness, India weren't looking to "shut out" the game, as they came within 8 runs of England's score before they ran out of overs, but Gavaskar's 443 ball effort is the second longest in a "successful" (non-losing) fourth innings cause.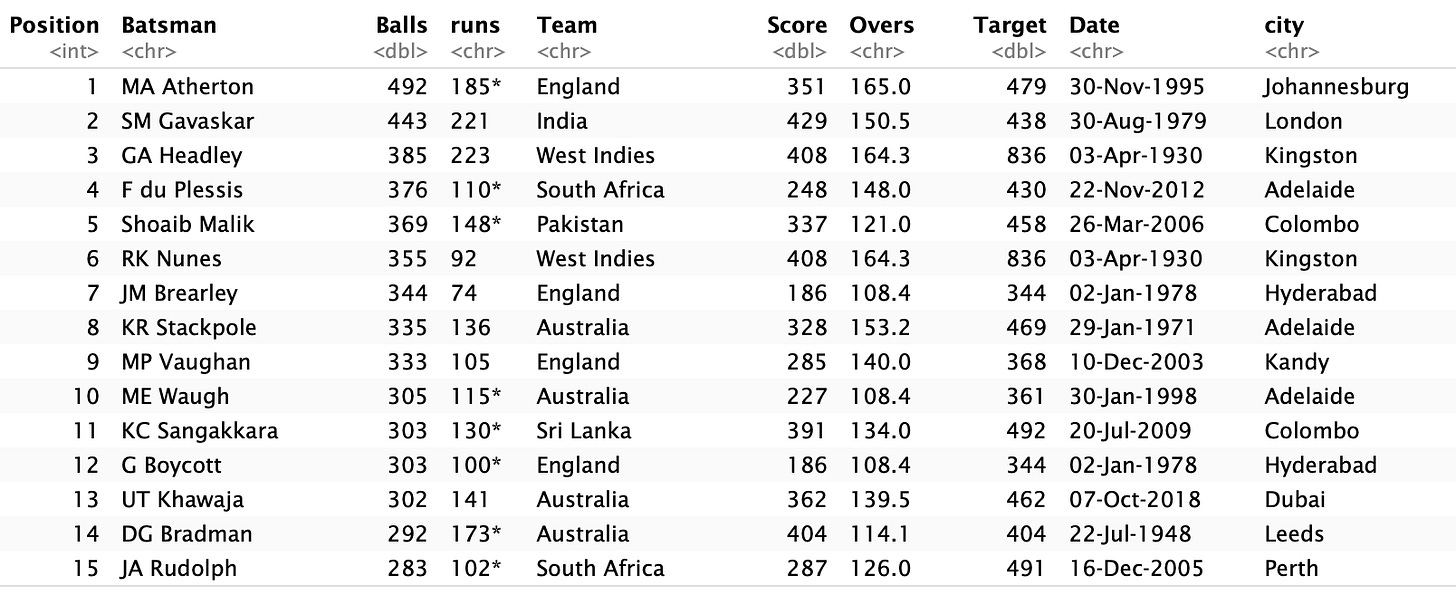 While these performances are impressive in itself, who are the best batsmen when it comes to a fourth innings shut out?
The chief batting statistics in cricket involve runs in one way or the other, but runs are of little relevance when it comes to fourth innings shutouts. The currency in this case is the number of balls played. Hence, to determine who are the best batsmen of all time when it comes to fourth innings shutouts, we will look at the "ball average" (balls per dismissal) in fourth innings shutouts.
Once again, we will restrict our analysis to situations where the third innings ended in a declaration, with a target of 250 or more being set to be scored in 50 overs or more. For this calculation, we will look at a batsman's performance across all such innings, rather than only looking at successful defences.
Now, there is a slight problem with this statistic since the number of balls played wasn't traditionally recorded, at least not as diligently as a batsman's runs. And the problem plays out right at the very top - Sunil Gavaskar's ball average of 215 doesn't include the 117* in the shutout in Barbados in 1974.
So accepting a pinch of salt, here are the top 20 batsmen of all time when it comes to saving a game (qualification: minimum of 10 innings batting fourth when opposition has declared):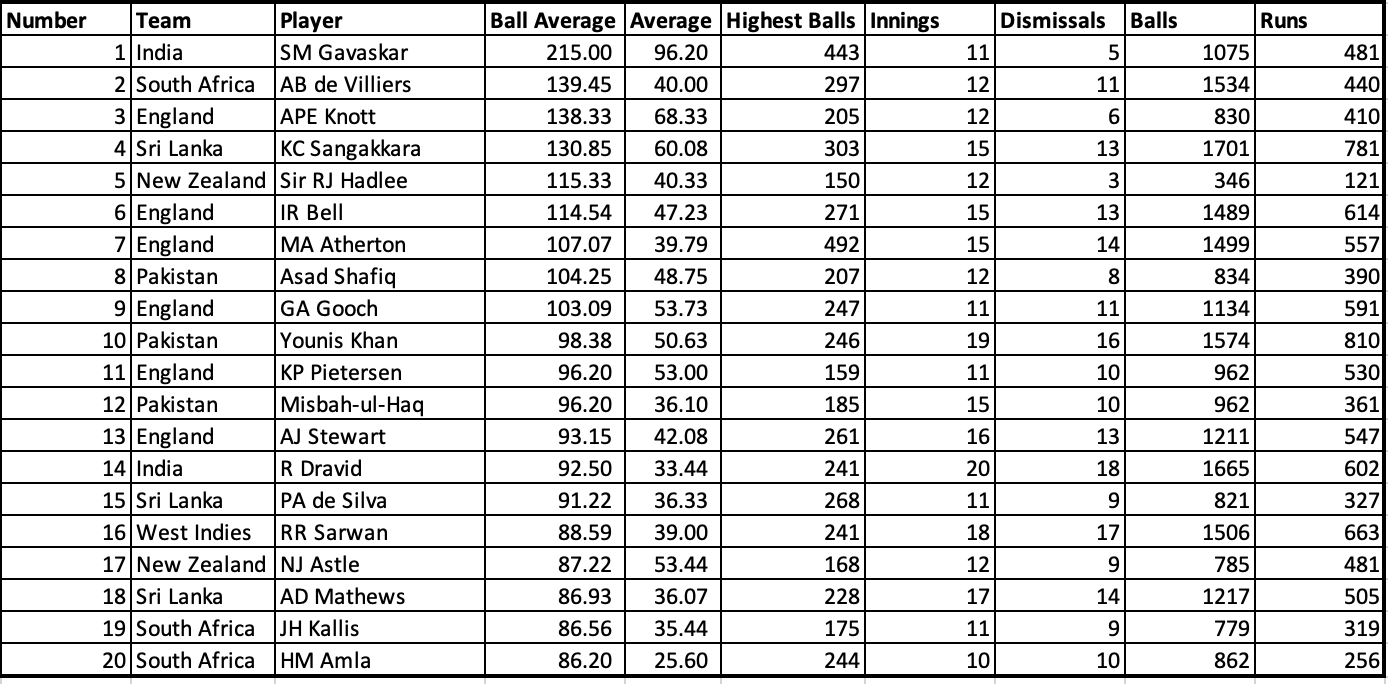 Gavaskar is in his own zone here (we don't have sufficient ball data for Bradman to clear the 10 innings cutoff, so we don't know where he might have stood). AB de Villiers, Alan Knott, Kumar Sangakkara and (rather surprisingly) Richard Hadlee follow.
The only Indian in the top 20 apart from Gavaskar is Rahul Dravid, who played 92 balls in each shutout. And if you had to choose contemporary batsmen to bat to save a test for you, you would want Asad Shafiq or Angelo Mathews. The rest are quite some way behind.