Discover more from Criconometrics
Telling cricket stories with data
Over 1,000 subscribers
32. Left Arm Spinners in Tandem
Bangladesh might be the recent "specialists" in playing left arm orthodox spinners in tandem, but do you know India have bossed them there as well?
I had sent a version of this to Hindustan Times a few weeks back. I don't think they published it, so the copyright of this remains with me.
In the final Test match against South Africa in Ranchi in October, India played two specialist left arm orthodox spinners - Ravindra Jadeja and Shahbaz Nadeem. In the first two Tests of the series, South Africa had done the same, with Keshav Maharaj and Senuran Muthusamy. 
While that made playing two specialist left arm orthodox spinners in the playing eleven a regular occurrence in this particular series, it is not that common an occurrence, at least as far as India is concerned.  Prior to the Ranchi Test, the last time India had played two specialist left arm orthodox spinners was in 2012-13, when Jadeja and Pragyan Ojha played three games together.
And if we have to go further back, we have to go all the way back to 2000, when Sunil Joshi and Murali Kartik played two Tests together (that happened to at a time when Anil Kumble was injured and Harbhajan Singh was still making a comeback after being banned for chucking). Interestingly, the two Tests that Joshi and Kartik played together were Sourav Ganguly's first two Tests as captains. He famously disliked left arm orthodox spinners, because he was very good at playing them.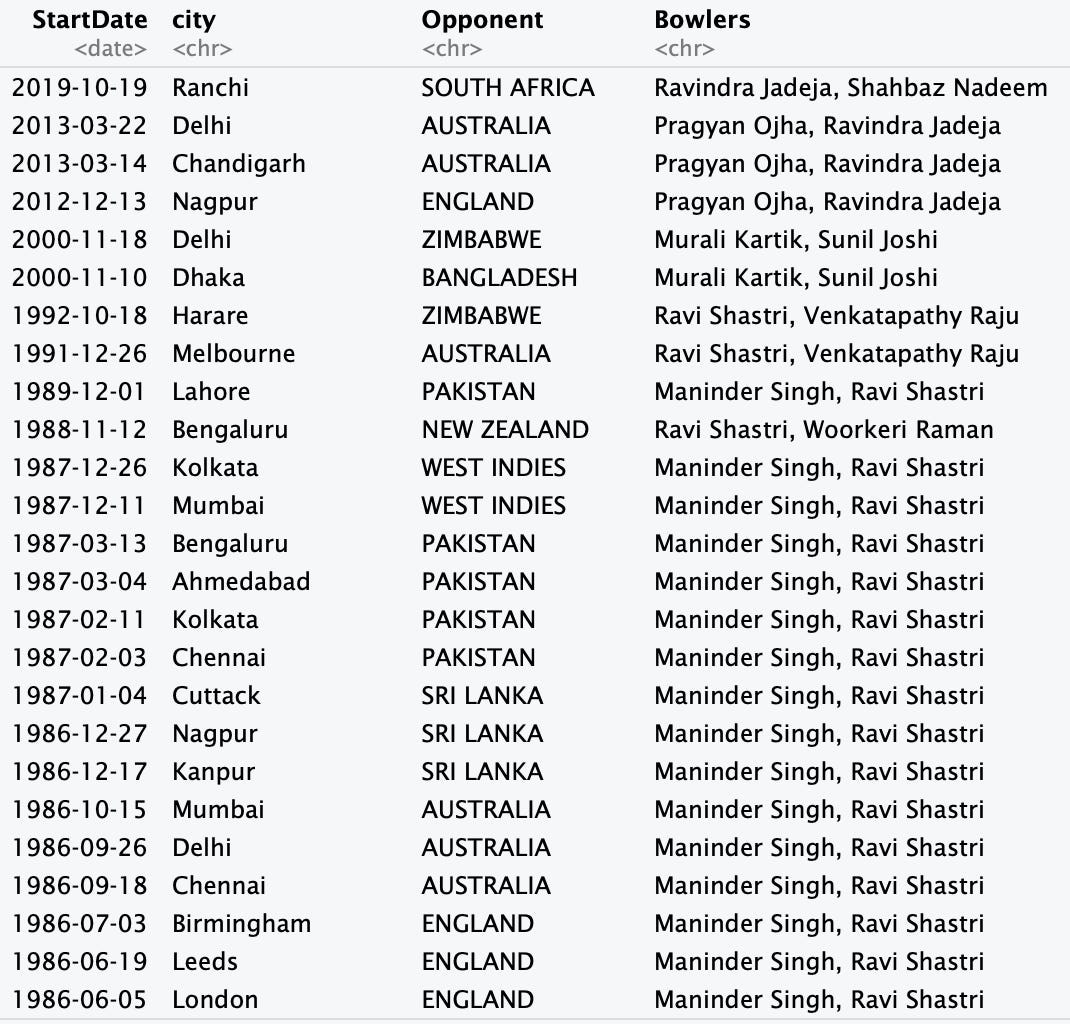 Yet, historically, India is the country that has played two specialist left arm orthodox spinners in the same Test match the maximum times, at 81 (a bowler is classified as a "specialist" if he bowls at least 10 overs across the two innings, or if he has bowled at least 10% of his team's overs in the match).  Next on the list is Bangladesh, India's next Test opponents, at 59. This statistic is more remarkable because Bangladesh has only played 113 Tests overall. In their last Test, in Chattogram against Afghanistan, they had the specialist pair of Taijul Islam and Shakib Al Hasan, with Mominul Haque also adding to the left-arm-orthodox attack.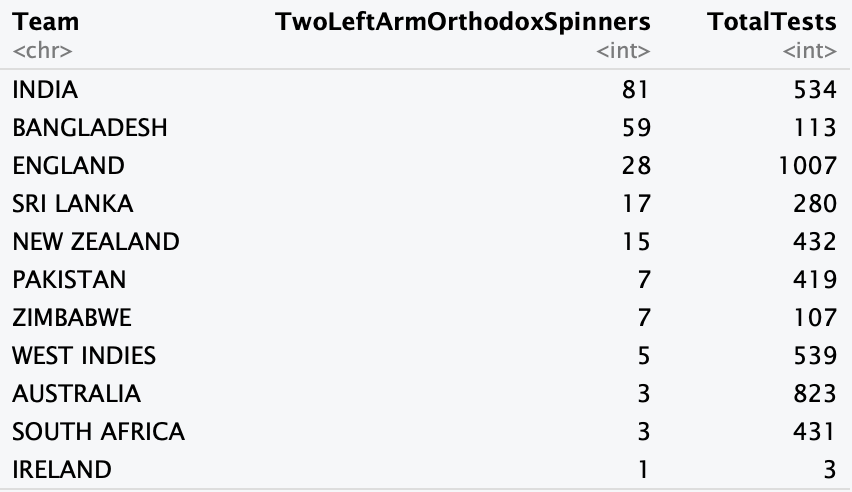 Apart from India and Bangladesh, only three teams have played two specialist left arm spinners in tandem more than 10 times - England, Sri Lanka and New Zealand. 
India's position at the top of this list is mostly thanks to the 1980s, when current coach Ravi Shastri and Maninder Singh played 27 matches together, where they both bowled at least 10 overs. In fact, this is the most number of Test matches that any pair of left arm orthodox spinners has played together - next on the list is the Indian pair of Salim Durani and Bapu Nadkarni, followed by Bangladesh's Taijul Islam and Shakib al-Hasan.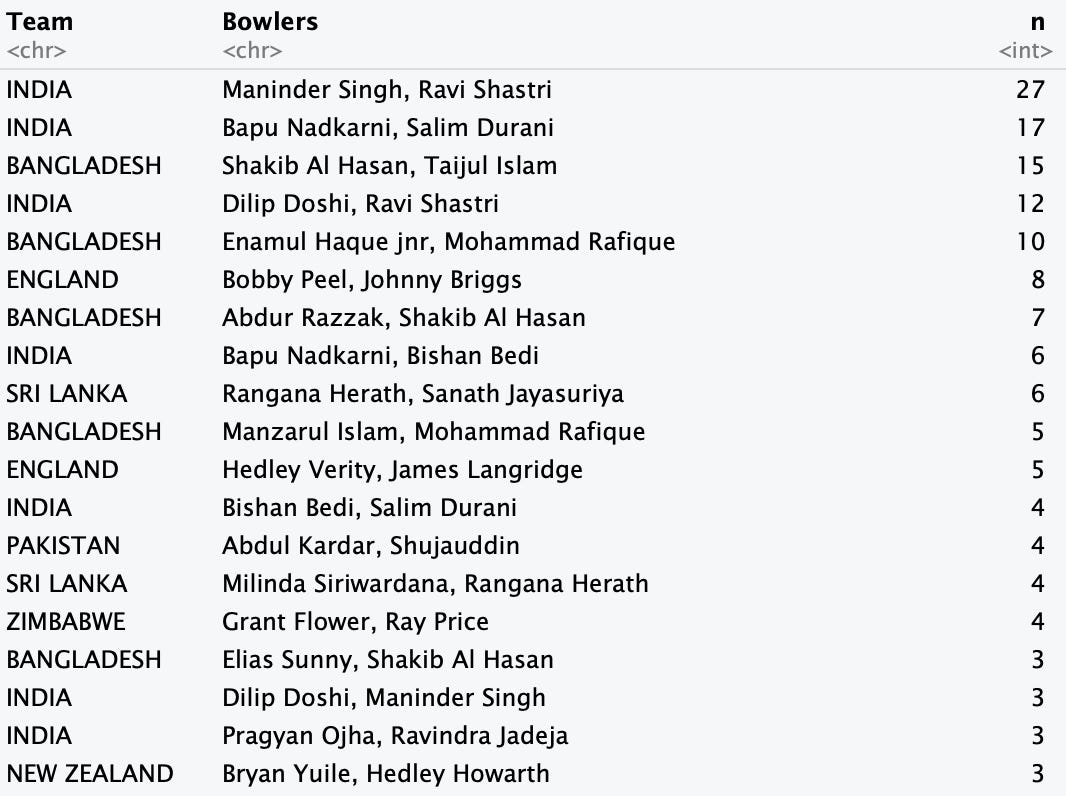 Bangladesh might as well have gone with the pair of Taijul and Shakib for today's Test, except that Shakib is serving a ban for not reporting an approach by a bookie. Rather than replacing Shakib with another left-arm-spinner, Bangladesh have decided to go with an offspin-leftarmspin attack, choosing Mehidy Hasan Miraz to partner Taijul.
Then again, their new captain Mominul Haque bowls left arm orthodox, and if India get settled in when it's their turn to bat, you can't really rule out Bangladesh playing "two left arm orthodox spinners in tandem"!