27. Boundaries
England have massively upped the proportion of runs scored through boundaries in the last four years
And so the World Cup ends, with a bang and also with a rule that possibly nobody realistically expected to use. As the New Zealand Herald put it, New Zealand "lost the World Cup final by zero runs". The match was tied. The super over that followed was tied. And England won on the next tie-break criteria which was the number of boundaries hit in the game.
In some ways it was a sort of justice to the Kiwis, who had sneaked into the knockouts on account of having a superior net run rate to the Pakistanis, with whom they were tied on points. Many people had made the case then that head-to-head results might have made more sense than net run rates.
Again after the finals, people made the case that something like wickets lost might have been a better way to break tie than use the number of boundaries scored. To me it appears that a lot of these arguments had been made with the benefit of perfect hindsight, based on what actually transpired and which team was at the losing end.
Coming to the tie break that was actually used, England scores a remarkably high number of runs in boundaries. In all ODIs in 2019 (this includes Sunday's final), 52% of England's runs have come in fours and sixes. The only other major cricketing team that scores more than half its runs in boundaries is the West Indies, also at 52%. Most of the other teams that played in the just-concluded World Cup have a boundary rate of around 45% (New Zealand included).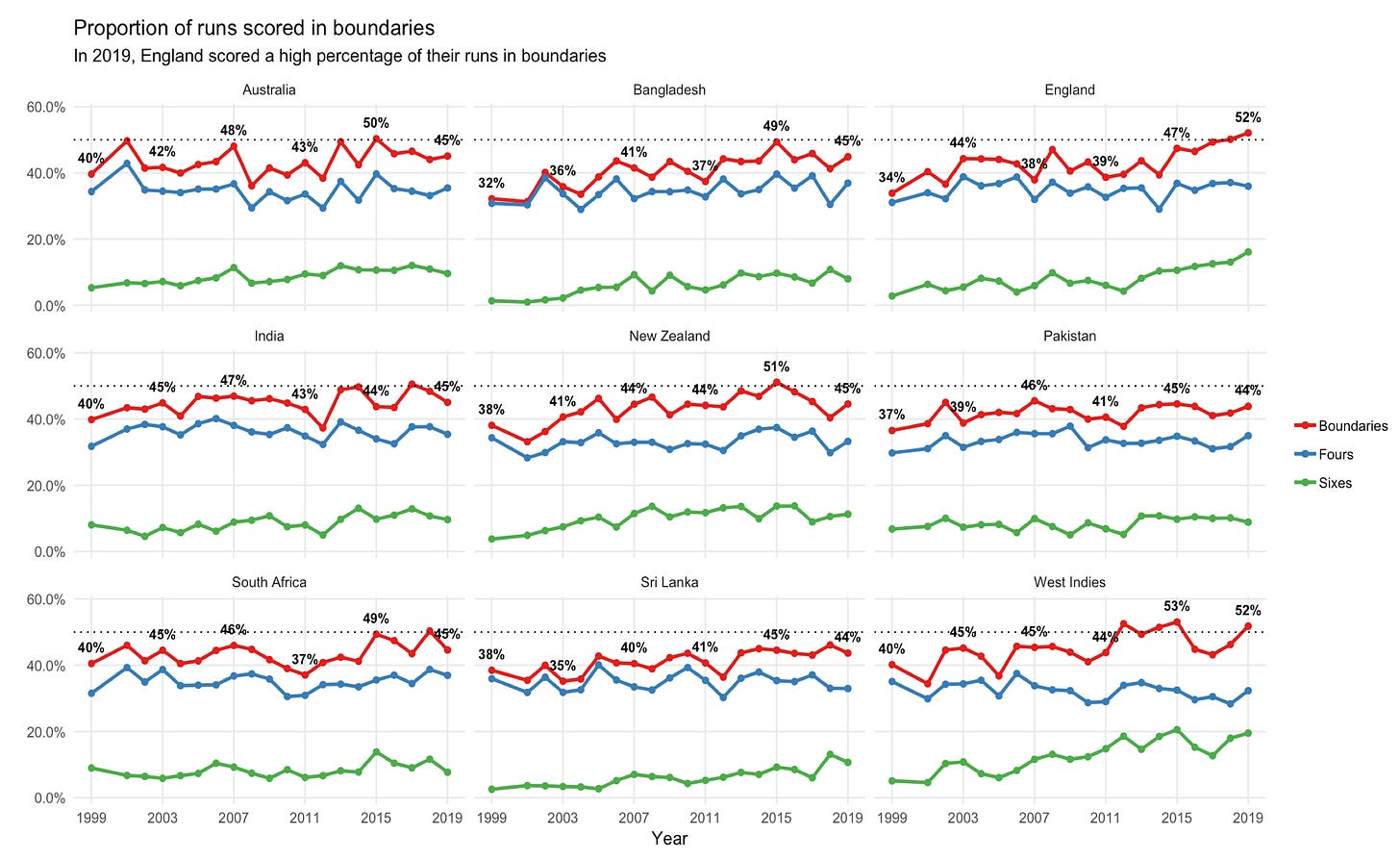 Since the last World Cup in 2015, New Zealand and England have sort of switched places. In 2015, New Zealand score more than half their runs in boundaries (second only to the West Indies), but since then the proportion of runs scored in boundaries has steadily dropped. Brendon McCullum's retirement possibly has something to do with it.
England, on the other hand, have a pronounced bump in the proportion of runs scored in boundaries from 2015 onwards. This, you may recall, was part of the team's wholesale revamp following a disastrous 2015 World Cup. Aggressive players such as Jason Roy were brought in, Test specialists were benched, and England went with a overall strategy of hitting continuously through the 50 overs. That has been accompanied by a corresponding rise in boundary hitting.
It is possible to make a conspiracy theory out of this - that the number of boundaries was used as a tie-break to favour the host nation, who are the second best on this metric. Then again, the number of sixes has been used as a tie-break mechanism in tournaments such as the IPL for a long time now.
I continue to maintain that the rule was put in "arbitrarily", without anybody actually expecting it to be used. The rules were subject to review among all teams, and it doesn't seem likely that anyone really objected to this. And when it came to the super over, England knew that a tie would win them the tournament, and defended accordingly.
Overall it has been a good World Cup. I quite enjoyed watching and analysing this, and producing this newsletter rather regularly. With the World Cup finished, Criconometrics takes a break now. I will continue to write this newsletter, but not at any set frequency - it will be guided more by the availability of interesting stories to tell.
If at any point in time you think I should write about or analyse something, do get in touch. Reply to any of the newsletters and I'll get your email. And I continue to look forward to your feedback and suggestions.
Cheers
Karthik