24. Oh Captain! Vice Captain!
When both Virat Kohli and Rohit Sharma get out early, there is a massive change in the way India builds its innings
I had sent this piece to Hindustan Times to be published ahead of today's semi-final between India and New Zealand. The newspaper doesn't have a Bangalore edition and not many of my pieces appear online, so I don't know if it's been published. So I'm putting it here "just in case".
There is a rather simple formula for New Zealand to defeat India in today's World Cup semi-final - get Virat Kohli and Rohit Sharma early. Of course this is easier said than done. 
In 136 ODIs that Sharma and Kohli have played together for India since the end of the 2011 World Cup, there have only been 5 games in which both of them have been dismissed for less than 10 runs each. Four of those games were in 2013 or earlier. The fifth was the Champions Trophy Final in 2017, when India were comprehensively beaten by Pakistan. 
Results apart, either the failure or absence of Sharma or Kohli results in India adopting a remarkably different batting strategy. Conventionally, India's strategy consists of starting steadily in the first ten overs, and then accelerating continuously. There is a "jerk" in India's rate of scoring around over 35, which heralds 15 overs of slogging - a much longer period of sustained hitting than other teams.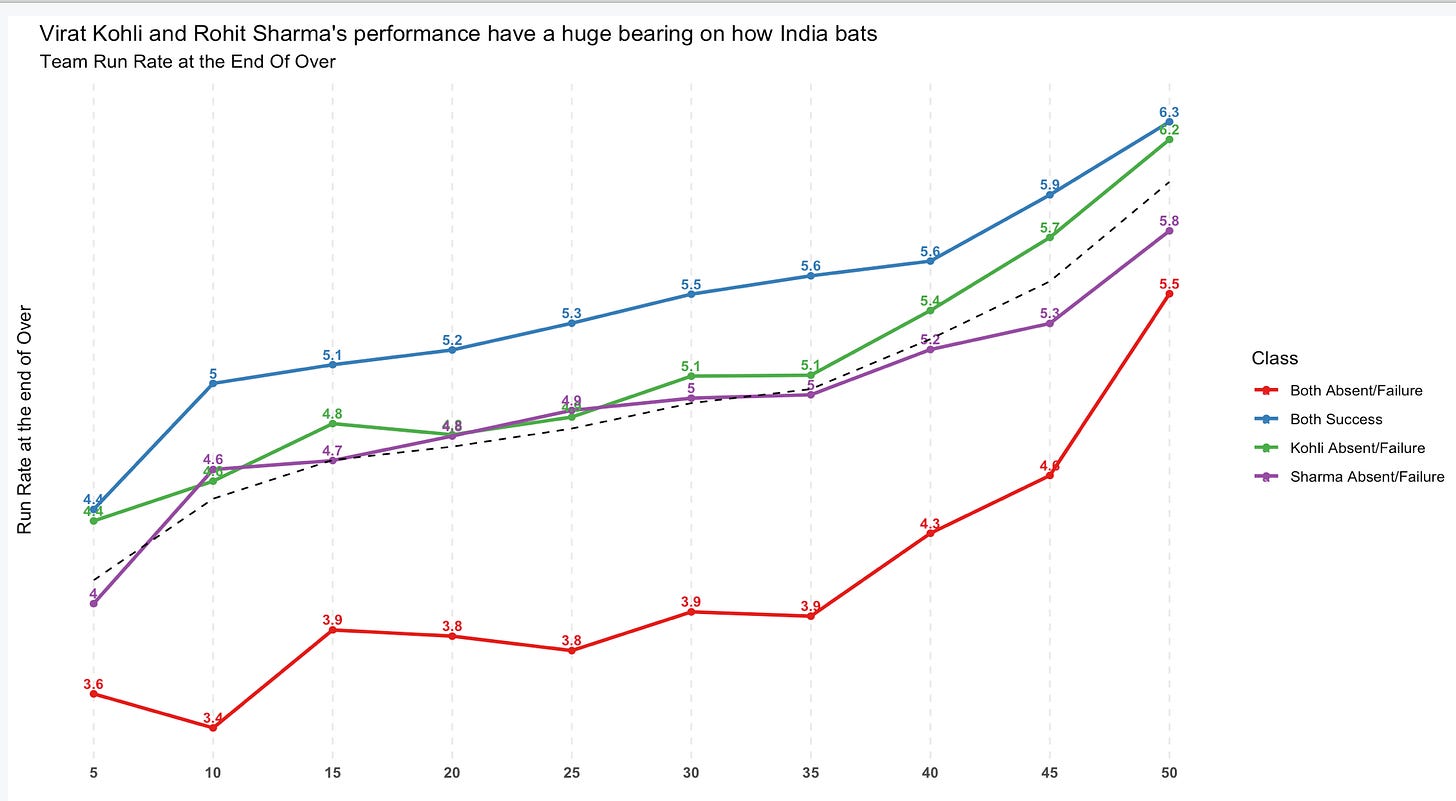 If one of Kohli or Sharma fails to score (or isn't playing), the team's run rate through the middle overs falls. With both of them playing well (at least getting into double digits), India can expect to have scored 224 at the end of 40 overs. If Kohli fails but Sharma is batting well, India's average score after 40 overs will be 216. If Sharma fails but Kohli bats well, India scores 208 after 40 overs. If both of them fail (admittedly a small number of data points, though more than 5 considering the games where one or both haven't played), India's average score at the end of 40 overs is only 172!
Following Shikhar Dhawan's injury in the second game of the World Cup, India promoted regular Test opener KL Rahul to open with Sharma. Through the seven games he has opened in, Rahul's mandate has been to hold up one end, even if he scores slowly. Perhaps the intent there is to not expose Kohli to the new ball, and minimise the chances of a Sharma-Kohli double failure. 
So far, Rahul has largely succeeded in his mandate of holding one end up, with the one game where he failed (against England) being the only one that India lost. 
New Zealand have a strong battery of pace bowlers. It will be interesting how they go at India's top order. If they indeed manage to get Sharma and Kohli early, they can fancy themselves to reach a second consecutive World Cup final.